---
Make the most of summer with a trip to your local dog beach. Feel the breeze in your hair, the sand between your toes and let your cares blow away whilst letting your dog have the time of their life!
Dog Beaches Near Me
Discover dog-friendly beaches recommended by fellow dog lovers. With WAGSTA you can shout out about your favorite dog friendly hangouts – dog parks, dog beaches and dog cafes.  Then track and map your dog walks and dogventures for free!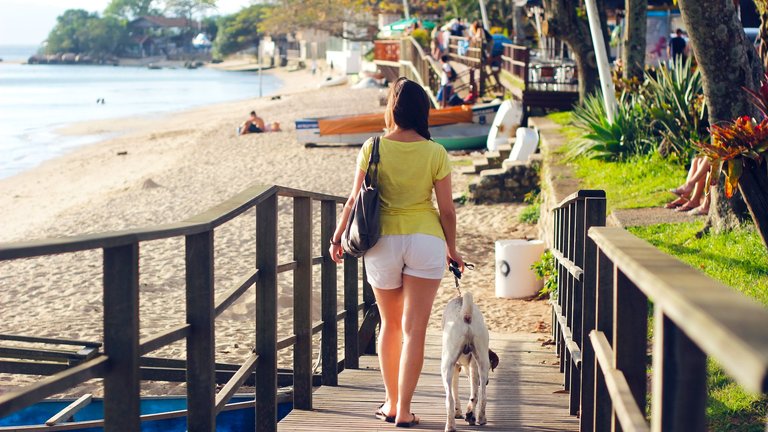 Dog Beaches: 10 Safety Tips for Dog Beach Visits
Make the most of your doggy beach adventure! Play it safe this summer with these 10 safety tips for exploring the sand and surf.
1. Keep your dog well hydrated.
The combination of exercise, high ambient temperature and coastal breeze can soon lead to dehydration. Prevent this by bringing a fresh water supply and bowl.
2. Prevent saltwater intake.
Prevent your dog from drinking sea water. Saltwater ingestion commonly leads to tummy upsets (such as acute onset diarrhea) and will dehydrate your dog. Excessive saltwater intake can be life threatening.
3. Prevent overheating and hypothermia.
Consider the prevailing weather conditions. Time your visit to the dog beach to avoid the hottest time of the day and seek/provide shade for your dog. Know the signs for dog heat stroke.
Likewise, in cooler climates beware the cooling effect of sea spray and onshore breeze. These can rapidly lead to hypothermia in less active dogs, small breeds, the young and elderly. Keep your dog out of the ocean in winter.
4. Be dog swim safe.
Ensure your dog can swim! Consider dog buoyancy vests for poor swimmers and Brachycephalic Breeds.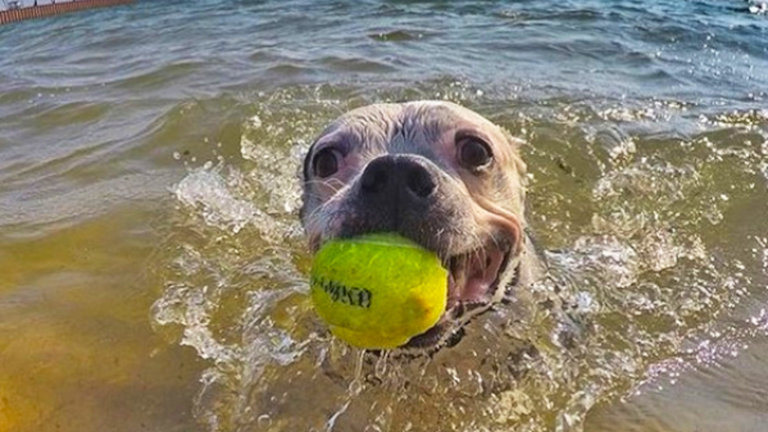 5. Consider dog beach conditions.
Do your research and swim in or near patrolled areas. Beware of rip tides and heavy surf.
6. Remember your dog's paws. 
Sand and footpaths often become baking hot in the summer months which can lead to burnt foot pads. Check surfaces are not too hot for your dog by resting the back of your hand on the ground. For those with hairy paws, check and wash your dog's feet at the end of their walk. Sand can soon ball up between the toes causing discomfort, abrasion and infection.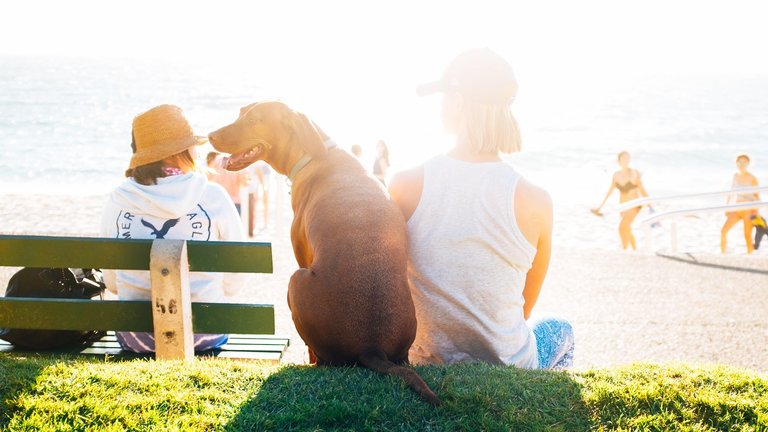 7. Think of your dog's ears.
If your is prone to ear infections, consider applying alcohol-based ear drops at the end of their beach swim. These will dry out any excess moisture and prevent Swimmers Ear.
8. Be wary of fishing hooks, old bait, broken glass and crustaceans.
Keep an eye on what your dog gets up to. Avoid fishing hot spots and be wary of sharp crustaceans when climbing over rocks.
9. Be alert for venomous sea life and poisonous fish.
Venomous sea snakes, jelly fish and octopus exist in tropical waters. On occasion these species may be encountered washed up on dog beaches. Keep your dog away and warn other dog owners. Likewise tropical waters near estuaries and mangroves may be home to Salt Water Crocodiles.
Puffer fish, Blow fish, Globe Fish, Toad fish and Fugu all contain tetrodotoxin – a powerful toxin which causes paralysis if eaten. These fish are often found washed up on the beach and swimming in the shallows.If your dog eats a Blow Fish, seek veterinary attention immediately.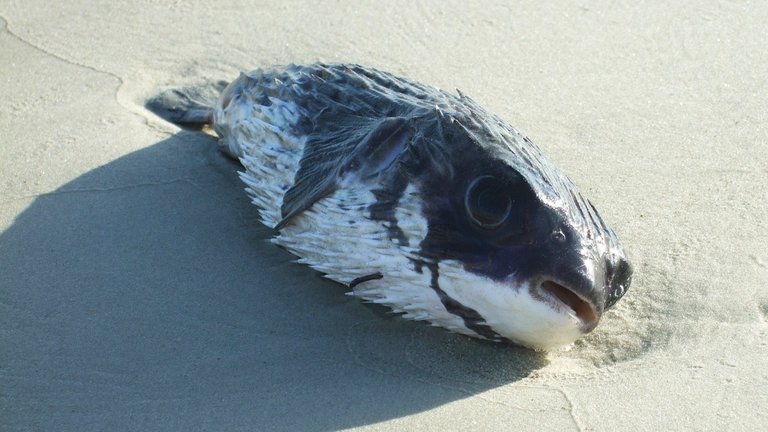 When visiting a new area chat with local dog owners first to find out about local beach risks.
10. Follow Dog Beach Rules
Pick up after your dog and be courteous to other beach goers. Prevent your dog from racing up to others and follow the on and off-leash dog beach guidelines. Play by the rules to help prevent inter-dog aggression, accidents and injury.
Now for some activities for your next dog beach outing..
Dog Beach Activities
Whether your dog prefers surf or sand, there's ample to keep your dog entertained at the beach. From tropical palm lined beaches to windswept coastal stretches, there's adventure to be enjoyed by every dog.  Here's how:
Explore dog friendly beaches by walking the high tide line and letting your dog sniff and discover all the enticing smells offered up by the ocean. During low tide explore amongst the rock pools and let your dog go crab and fish spotting.
Stretch those legs by walking or jogging the length of the beach. Sand makes for fantastic resistance training for both dog and owner. Up the workout by climbing and running down sand dunes.
Play fetch in the waves- Breeds such as Labradors and Cattle Dogs adore crashing through the waves to play this this game.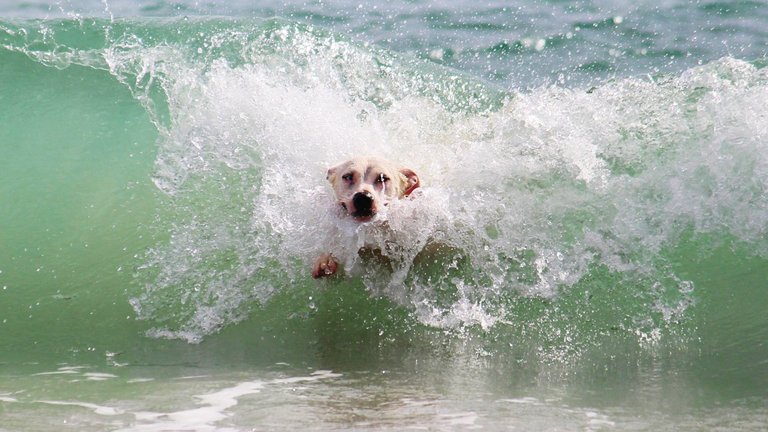 Get wet and take a cooling dip with your dog
Try out some dog friendly water sports such as Stand up Paddle Boarding and canoeing.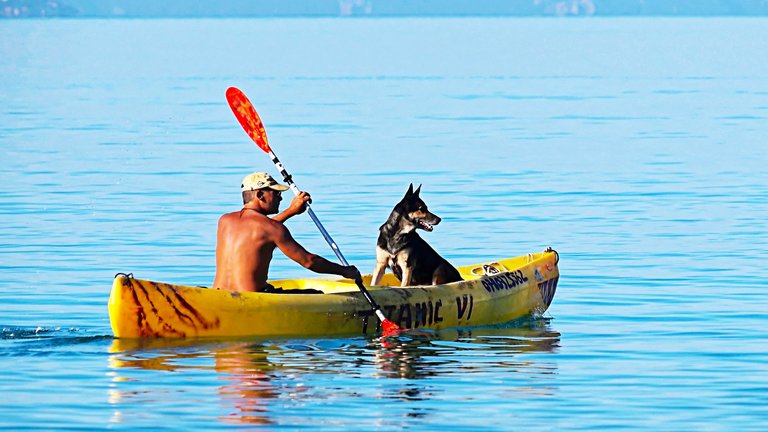 Set your dog on a treasure hunt by burying a favourite toy or sand-proof treat in the sand.
Play with nature's toys. Fallen coconuts make for great beach footballs, and well weathered, smooth edged driftwood is fantastic for a game of fetch.