---
Most of the international dog friendly cruises listed here will require your dog to be micro-chipped, vaccinated against rabies and have documentation to prove it. Your vet can guide you through this process and give you an estimate of the cost.
Best Dog Friendly Cruises:
Queen Mary
Cunard's Queen Mary 2 is the only major cruise line that allows pets, and only on certain transatlantic sailings — those between New York and Southampton, either direction. Book well in advance because the ship only accommodates up to twelve animals. Dogs are confined to their own digs in an onboard kennel on Deck 12, where crew members feed, walk and clean up after them and give them treats and toys. There are organized play times and visiting hours so you can check in on your pooch. Feeding bowls and beds are provided. Food can also be provided on request, but most people provide their own.
Be prepared to pay almost as much for your pet to cruise as you'll be paying for yourself. Prices range from $500 to $1,000 per dog and from $1,000 to $1,600 per cat. (Cats need two kennels — one for the litter box.)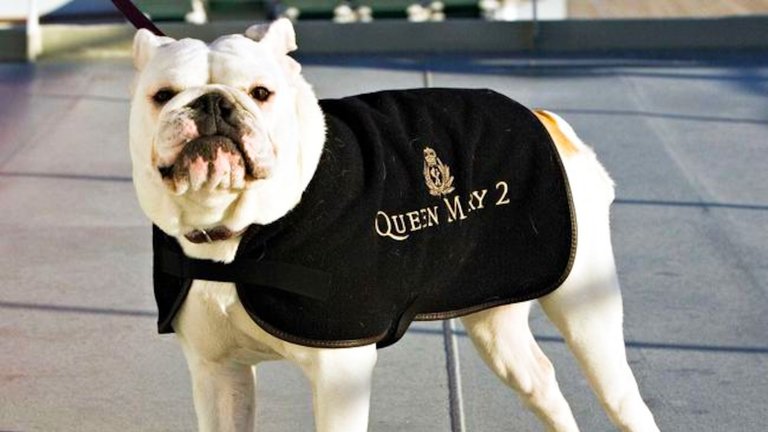 Rødne Fjord Cruise, Norway
Rødne offers four dog friendly cruises of Norway's beautiful Fjord landscapes. They typically last for 2 to 3 hours. If there are passengers on board with allergies, your pet will have to enjoy the cruise out on the sundeck. Some of the tours charge a fee for your dog, but guide dogs for the blind always travel free. The two Preikestolen Cruise & Hike packages are not dog friendly cruises because of the restrictions imposed by the bus company.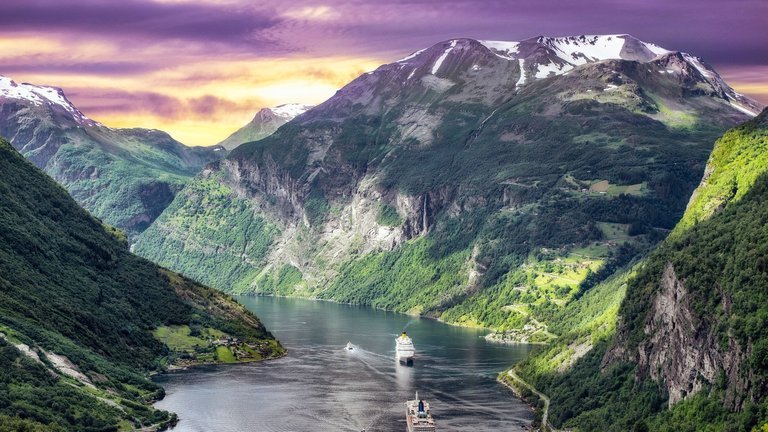 Ferries – Italy, Greece
Nearly all of Greece's ferry lines, including the inter-island ferries and the Italy to Greece ferries, are dog friendly.  Some provide special areas for dogs, for which you will pay a small fee. Often, you will be responsible for your dog's welfare. Some ferries have dog friendly cabins, which are at no additional charge. Dogs are not allowed in the common areas and must have health certificates to prove they are vaccinated and rabies-free.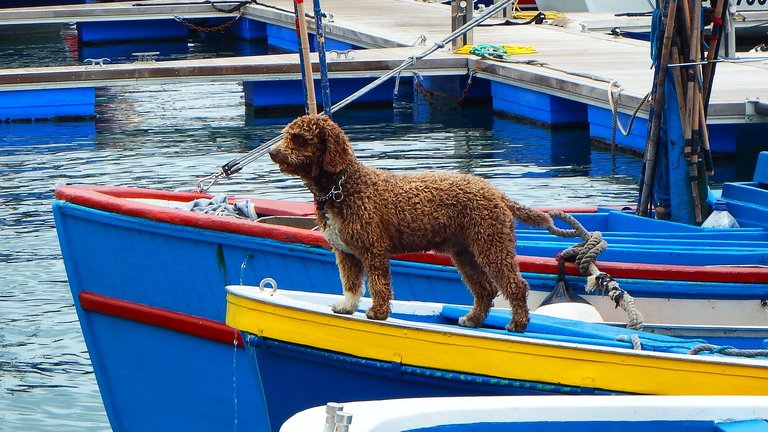 Riverboats – Germany and Netherlands
The MS Normandie has three dog friendly cruises.
Cruise the Rhine for 4-days and see ancient castles, vineyards, and medieval villages with your dog.
Explore Netherlands and its windmills and tulip fields for eight days. Your dog is even allowed to join you in the common areas (the salon, restaurant, reception and decks) if on leash.
Cruise the Moselle for eight days. Wind through majestic scenery and brightly colored medieval villages.
The ship docks several times a day so you can walk your dog on land. If poochie needs a break between shore visits, there's a pet relief area set up on the "Sonnendeck".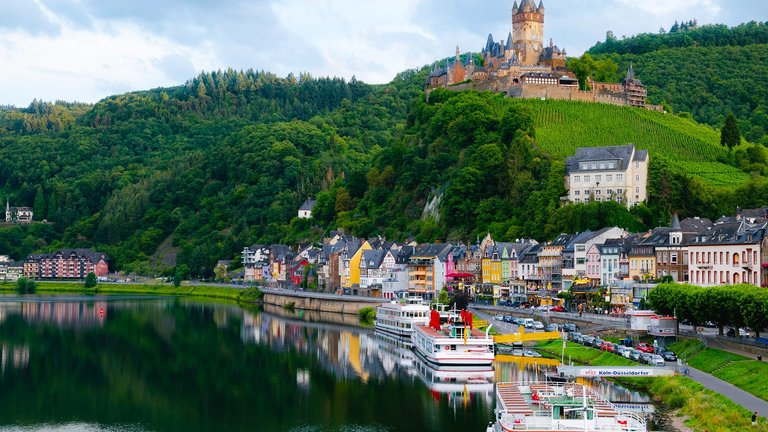 Dog Friendly Ferries – UK, Spain and France
Le Boat in France will rent you a canal boat and dogs are welcome aboard. In France, every town you go to will be dog friendly because France is a dog friendly place all around.
Brittany Ferries has dog friendly cruises. The pet friendly cabins can comfortably fit two small to mid sized pets. There is also a private exercise area on deck 10 but your dog isn't allowed into the internal common areas of the ship.
Their dog friendly cruises include:
Portsmouth (UK) to Bilboa (Spain)  on the Cap Finistère which is equipped with 17 pet friendly cabins.
Portsmouth to Le Havre (France) on the Etretat, which has 13 pet friendly cabins
Portsmouth to Bilbao and Santander (in Spain) and Le Havre (France) on the Baie de Seine, which has 14 pet friendly cabins.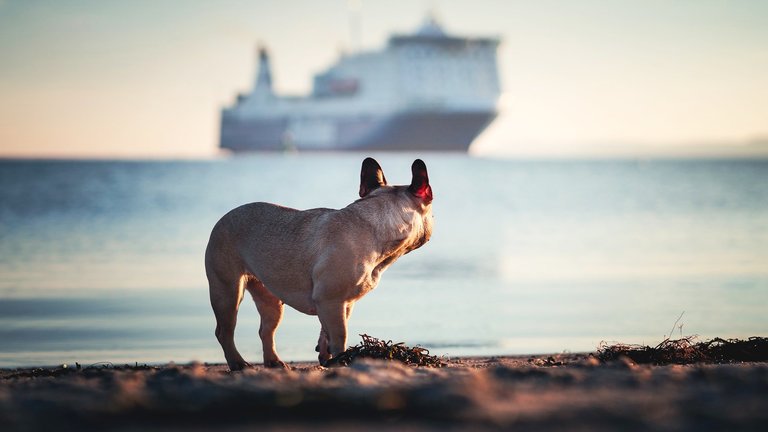 USA dog friendly cruises
New England
Acadian Nature Cruises operates out of Bar Harbor, Maine, and have two-hour scenic cruises along the shoreline.
Downeast Windjammer Cruises in Cherryfield, Maine offers sightseeing cruises and fishing excursions on Belfast Bay and around Bangor Harbor.
Hy-Line Cruises allows dogs on Cape Cod Canal and Hyannisport Harbor cruises.
Dog Gone Sailing Charters in Provincetown, Massachusetts offers dog friendly cruises that can accommodate up to six humans.
Maryland
Watermark Cruises in Annapolis, Maryland, provides 45-minute, dog-friendly cruises around Baltimore's inner harbor and Chesapeake Bay Lighthouse.
Cruises on the Bay in Annapolis & Baltimore, Maryland, are dog-friendly and dogs ride free.
Florida
Scenic Cruise St. Augustine, Florida has a variety of scenic cruises and they are all dog friendly.
Chicago
On the dog friendly Skyline Queen, you and your dog can enjoy a ride alongside Chicago's skyline as guide highlights the city's dog-friendly places and elaborates on the history of Chicago.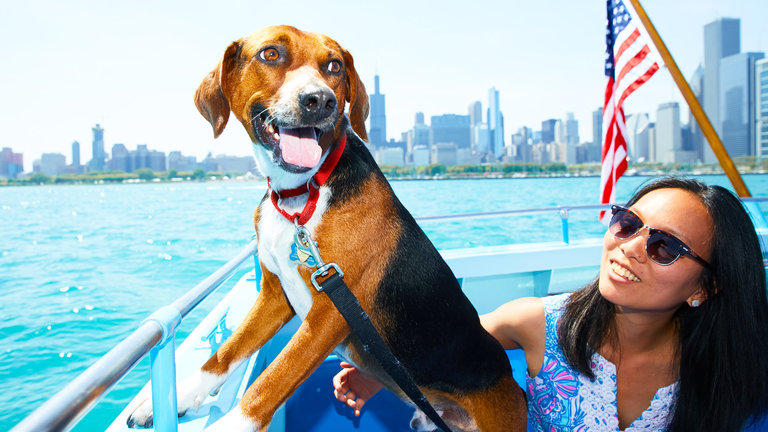 Texas
BayWatch Dolphin Tours in Galveston, Texas, have dog friendly sightseeing cruises out of Galveston Harbor.
Arizona
Dolly Steamboat operates out of Apache Junction, Arizona, cruising along Canyon Lake's waterways and the Apache Trail. The nature and astronomy cruises are dog friendly.
Seattle
Seattle's Argosy Cruises has a dog friendly Christmas cruise and festival which has become the largest holiday floating parade in the world. Dogs and their humans enjoy champagne toasts, doggie hors d'oeuvres from The Dining Dog Café, and pictures with Santa Paws!
San Diego
San Diego's Hornblower Cruises are dog friendly. It's famous for its brunch buffet for humans, but they also have a doggie buffet.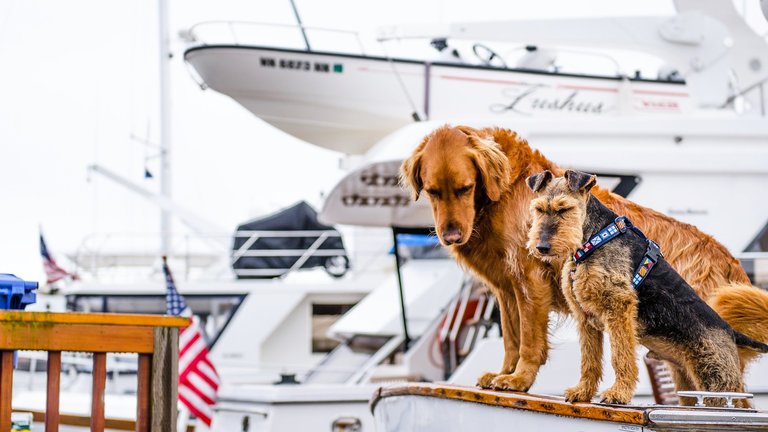 Flying with a Dog
Flying with your dog is not as difficult as you might think. Read all about pet passports, dog friendly airlines, and travel tips in our article, Flying with a Dog.
Dog Friendly Places
Find dog friendly restaurants, pubs and cafes in our article aboutDog Friendly Places.
Dog Friendly Vacations
Some tour companies are catering to dog owning travelers who wish to adventure with their pooch. Walking tours of Britain and Europe, white water rafting adventures or vacation packages – with our list of dog friendly vacations and tour companies, the world just got bigger for you and your dog.
Dog Friendly Hotel Chains
Hotel chains all over the world are rolling out the red carpet for you and your best friend. We've done the leg work to find the 22 most dog friendly hotel chains in Europe, USA, and all over the world along with their pet policies. You never know, your favorite chain might be on the list!