Pets love walking in new locations as much as we do. It stimulates their brain and their senses, keeping them happy and healthy. With pet obesity a major health concern among pet owners, hiking is also a fun way to give your dog the exercise she needs.


We hope this list of dog-friendly hikes from around the world will inspire you to take a vacation and to explore further afield with your pooch. The rise in pet-friendly hotels and campsites makes vacationing with your dog easier than it ever was.


Dog Hike Tips
A few tips when hiking with your dog.


Share your location with friends and family and ensure your phone is fully charged in case of emergencies.
Ensure your dog has an ID tag and is microchipped. Keep your dog on a leash if he is prone to running off, especially around wildlife and livestock.
Put your dog on leash around cliffs, fast flowing rivers, frozen lakes and trafficked areas.
Keep to marked trails and clean up after your dog.
Take water and a collapsible dog bowl. For longer hikes pack a first aid kit and some snacks.
Avoid hiking in hot or humid weather or in wet cold conditions.
Choose hiking trails suited to your dog's physical capability.
Check your dog for ticks, grass seeds and abrasions after his walk.
Some of the hikes listed are off leash dog hikes.
Inspiring Dog Hikes from Around the World
Dog Hike Trails USA
1. Acadia National Park, Maine
Dogs can go on most of the trails in Acadia National Park if kept on a leash. The range of trails is staggering from the coastal cliffs and beaches to the summit climbs. Distances and grades vary.

Ocean Trail
Distance: 7.2 km | 4.5 miles return
Time: 3 hours return
Grade: Easy Dogs on leash.


This stunning trail begins near Sand Beach and hugs the coast through woods, along cliff tops, and around rocky coves past Thunder Hole all the way to Otter Cliff where you can watch people abseil. Park at the Sand Beach or Otter Point parking lots.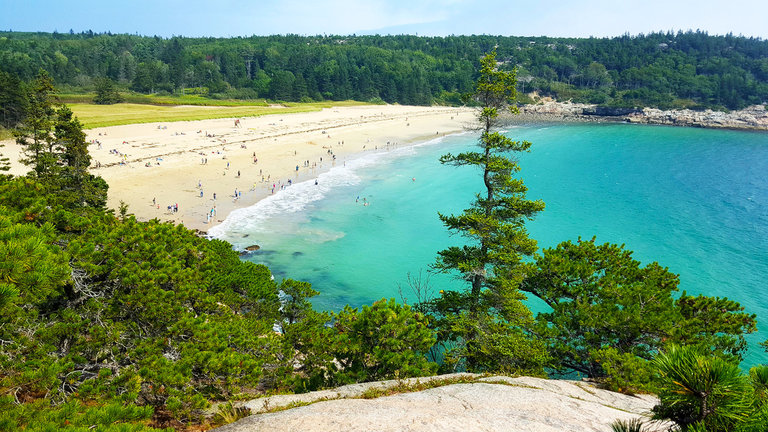 The Coastal Trail

Jordan Pond Nature Trail
Distance: 1.6 km | 1 mile loop
Time: 1.5 hrs
Grade: Moderate Dogs on leash
Boardwalks take you through the forested shore and over granite rocks before coming to a clean gravel trail along the waters edge. A short section of rock scrambling is needed, which is why this is moderate and not easy. You can lengthen this trail by climbing the bubbles (pictured). Park at Jordan Pond parking area.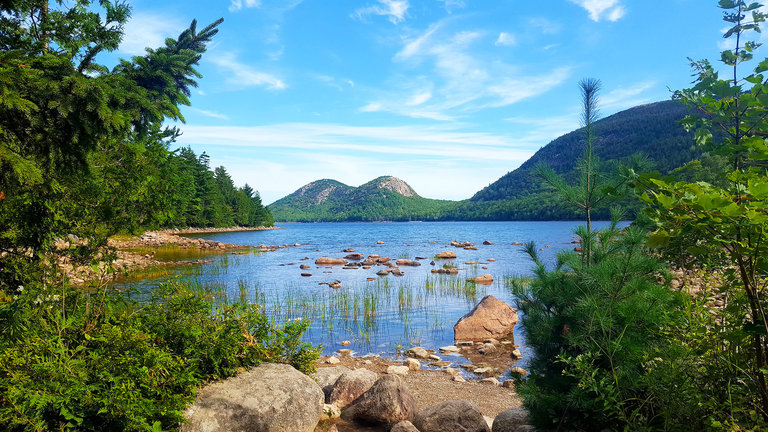 Jordan Pond Nature Trail and a view of the Bubbles.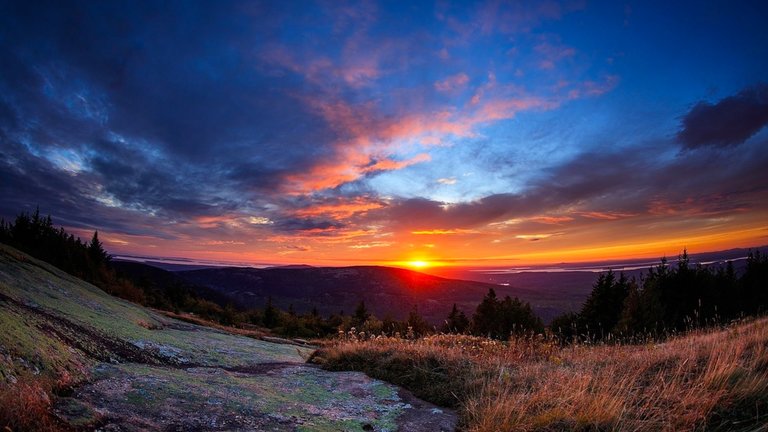 A summit climb in Acadia National Park.

2. Dog Mountain, Washington State
Distance: 9.6 km | 6 miles round trip
Time: 3.5 hours
Grade: Moderate to difficult Dogs on leash


This trail up the Washington side of the Columbia River Gorge has an elevation gain of 2,800 feet (850 meters). It's a steady leg burner but you can enjoy some stunning views of the gorge. In spring the trail is laced with wildflowers. Permits are required on the busiest weekends (March 31 – July 1), which are $5 per hiker.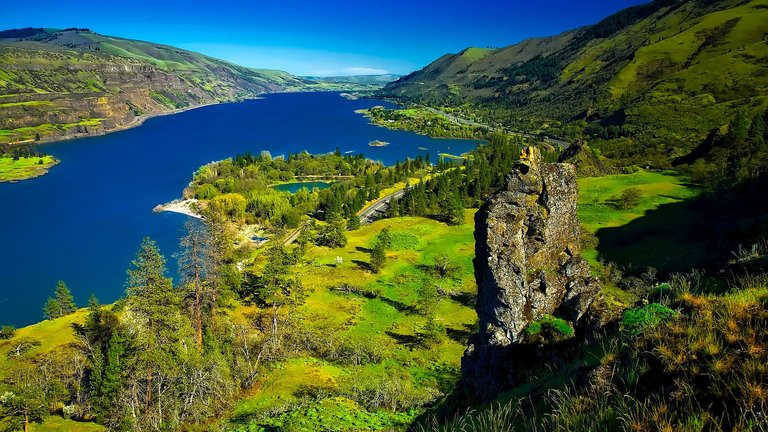 Columbia River Gorge, Washington

Dog Hiking Canada
3. Banff National Park
All National Parks are dog-friendly in Canada if kept on leash. This opens up all kinds of vacation opportunities for you and your pal!


We chose Banff National Park to add to our list because it has over 1,600 kilometers (1,000 miles) of trails, which is more than any other mountain national park in Canada.


Fairview Mountain Lookout Trail
Distance 10.6 km | 6.6 miles return
Time: 4 – 5 hours
Grade: Difficult due to the elevation gain of 1,014 meters (3,326 feet).
Dogs on leash


This leg-burning climb up a forest trail will get you and your dog away from the crowds and reward you with close-up mountain views. At the world-famous Lake Louise, your dog can have a cool drink, but be sure to take water for him on the hike. The trailhead begins near the canoe rental facility on Lake Louise.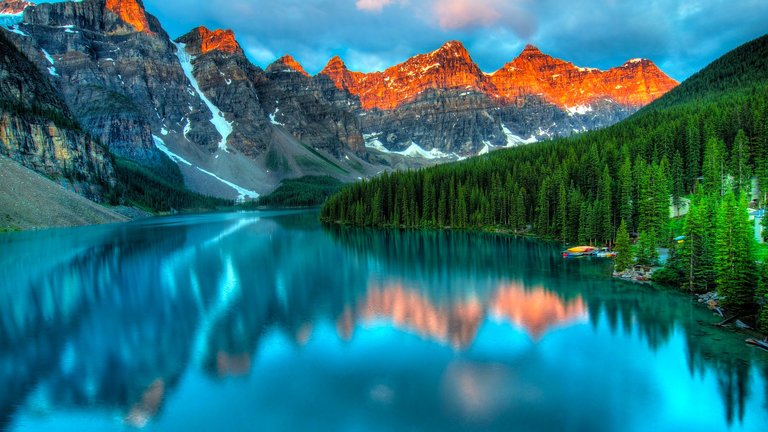 Lake Louise, Banff National Park, Canada

Dog Hikes in Scotland

4. Loch Morlich in the Highlands
Distance: 6 km | 3.75 mile loop
Time: 1.5 – 2 hrs
Grade: Easy
Dogs on leash


Loch Morlich is surrounded by thick forests and fringed with beaches where many people let their dogs off leash to run around. It's all set against the backdrop of the often snow-clad peaks of the Cairngorms.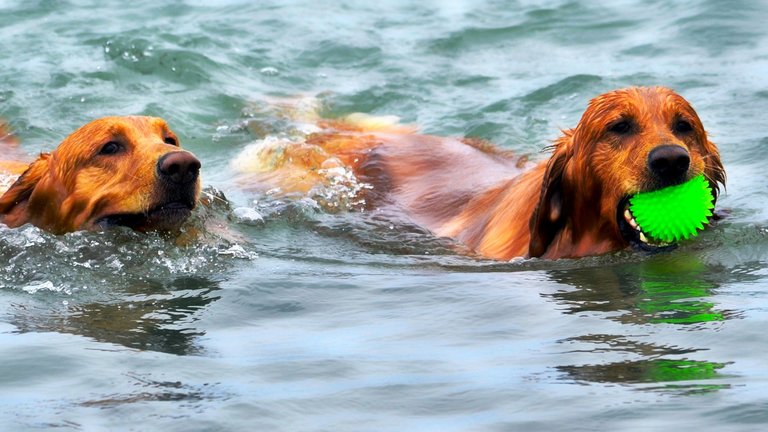 Your dog can cool off after his walk in the loch.

Dog Hikes England
5. The Doone Valley, Exmoor
Distance: 8.8 km | 5.5 mile loop
Time: 3 hours
Grade: Moderate to difficult
Dogs on leash


Doone Valley is the setting for Blackmore's classic seventeenth century novel, Lorna Doone. Recount the story as you and your dog cross the dramatic moors down into a picturesque valley, passing Blackmore's memorial stone and Oare church, where Lorna's eventful wedding took place.


This hiking trail is strenuous at times. Reward yourselves with a rest afterwards at the dog-friendly Blue Ball Inn in Countisbury.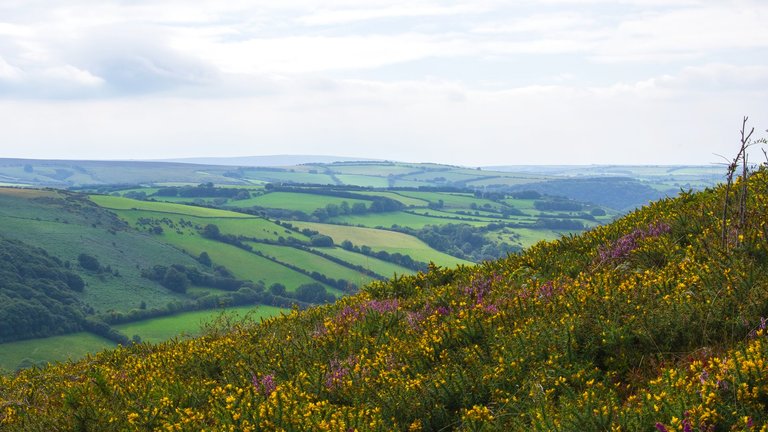 Doone Valley, Exmoor, England

Another stunning walk in the region is the coastal walk from Bossington to Countisbury. But it takes 4 hours each way so a driving buddy would come in handy.


Distance: 18.5 km | 11.5 miles one way
Time: 3.5 – 4 hours
Grade: Easy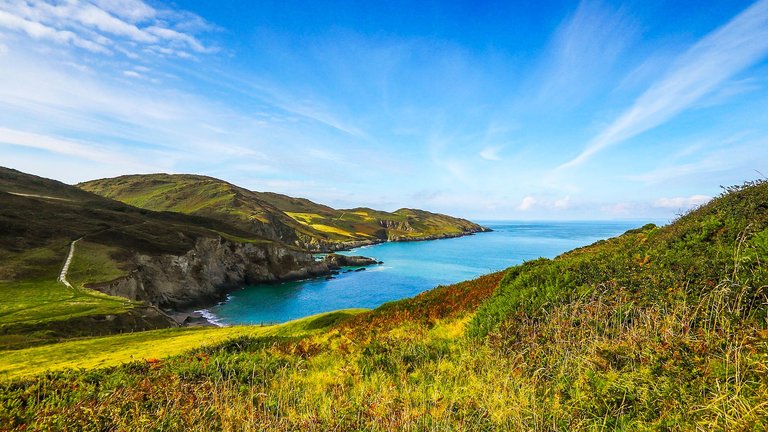 The coastal walk, Exmoor, England

6. Green Chain Walk, London
Distance: 8 km | 5 miles one way
Time: 1.5 hours
Grade: Easy
Dogs on leash with off leash sections


London's Green Chain Walk takes you from Crystal Palace Park to Nunhead Cemetery, which is one of London's seven Magnificent Cemeteries.


Visit the site of the 1851 Great Exhibition and the Horniman Museum and Dulwich Art Gallery along the way. In Crystal Palace Park, Sydenham Hill Wood and Dulwich Park, well-behaved dogs can run off leash –a rare treat in London!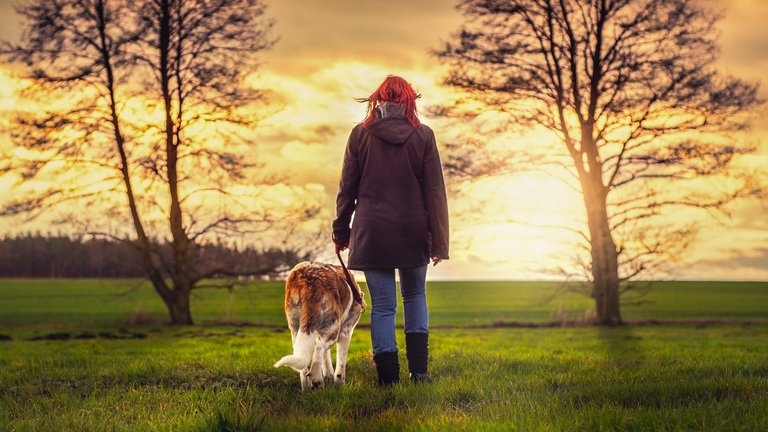 Dog Hiking in IRELAND
7. Gleninchaquin Park, County Kerry


Gleninchaquin Park is a working sheep farm that has several great trails ranging from a gentle meander around the pastures, a stroll along the river and falls or the more strenuous mountain trails taking that can take anywhere from 2 to 7 hours to complete depending on what trail you choose.


Heritage Trail
Distance: 8 km | 5 mile loop
Time: 1.5 hours
Grade: Moderate-difficult
Dogs off leash except near livestock


The Heritage Trail takes in most of the lower valley and crosses two streams by a bridge before entering the woodlands.


After ascending the hills and crossing a stone bridge you arrive at the Heritage Site, an 18th Century farmstead, uninhabited for more than 130 years.


The Famine Cottage has featured in films and magazines and has been photographed by Annie Liebowitz. In 2016 a UK film Company spent six days shooting a short film, 'The Widow's Last' depicting a woman's struggle with life during the famine.


Before the path descends, there is a sign to a viewing point where you can enjoy views across the valley and woodlands right out to the sea and the horizon.


On your way downhill, a wooden bridge crosses above a beautiful series of waterfalls and pools.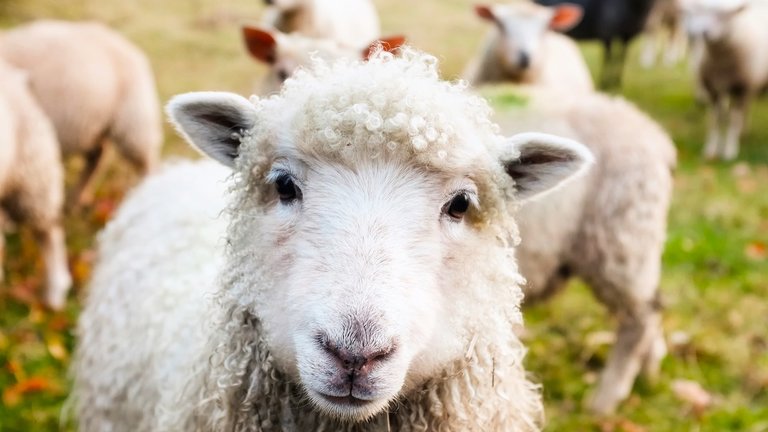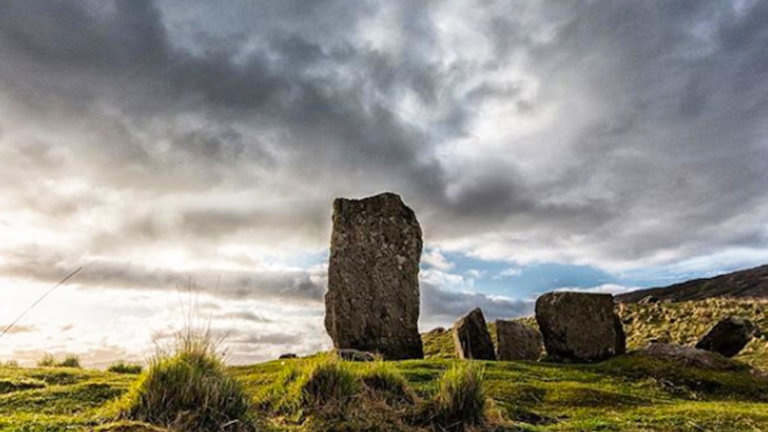 Gleninchaquin Park

Dog Trails in AUSTRALIA
Dogs can travel without quarantine between Australia and New Zealand, so Australian and New Zealand dog owners could take their dog on vacation across the Tasman Sea.


8. Cape Conran Coastal Park, Victoria
Cape Conran is located in the Gippsland Lakes area of Victoria on the southern coast of Australia.


East Cape to Pearl Point
Distance: 25km | 15.5 miles return
Time: 5 hrs
Grade: Intermediate-Difficult
Dogs on leash


Cape Conran Coastal Park has dog-friendly camping so you can stay here with your dog.


The walk from East Cape to Pearl Point can be a difficult walk due to the soft beach sand. The park has heathlands, wild ocean beaches and banksia woodlands abundant in nectar-feeding birds. There are stunning rock formations, sand dunes and a lot of marine life.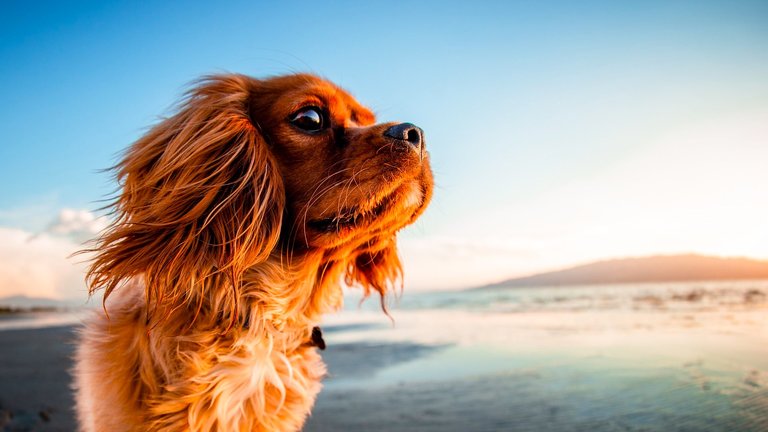 9. Bondi to Bronte, Sydney, NSW
Distance: 6km | 3.7 miles return
Time: 1 hr
Grade: Easy
Dogs on leash


The Bondi to Bronte walk hugs the coastline with constant views of the Pacific Ocean. The path is mostly sealed with some stairs and a few rocky patches. Stop for a swim at pretty Tamarama Beach.
You can lengthen this walk by continuing on to Coogee Beach from Bronte.
Distance: 10.6 km | 6.6 miles return
Time: 2.5 hours
Grade: Easy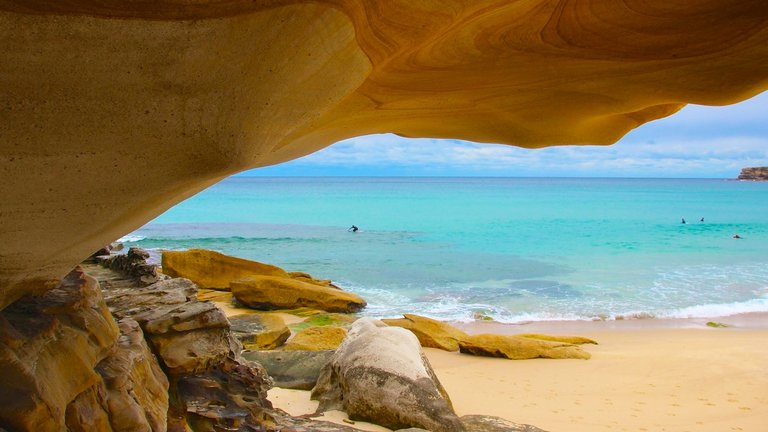 Dog Hiking in New Zealand
10. Otari-Wilton's Bush


With 20 miles of hiking trails from easy to difficult, this will have something to suit you and your dog.


Otari-Wilton's Bush is New Zealand's most significant native botanic gardens and Wellington's largest area of original native forest. It is open 24 hours a day, seven days a week and is free to enter. Pick up a map from the Information Centre.


The Canopy Walkway is a 75 meter long boardwalk 18 meters above the forest floor and is the shortest walk.


Skyline Loop Track
Distance: 4.5 km | 2.7Mile loop
Time: 2.5 hours
Grade: Difficult
Address: 160 Wilton Road, Wellington, NZ
Dogs on leash


This climbs through forest and traverses the mountain range. On the upper Blue Trail you will pass an 800-year-old rimu tree. Imagine that! In the thirteenth century, while St Francis of Assisi founded the Franciscan Order, Genghis Khan invaded China and William Wallace led the Scotts against the English, this tree was sprouting from the soil.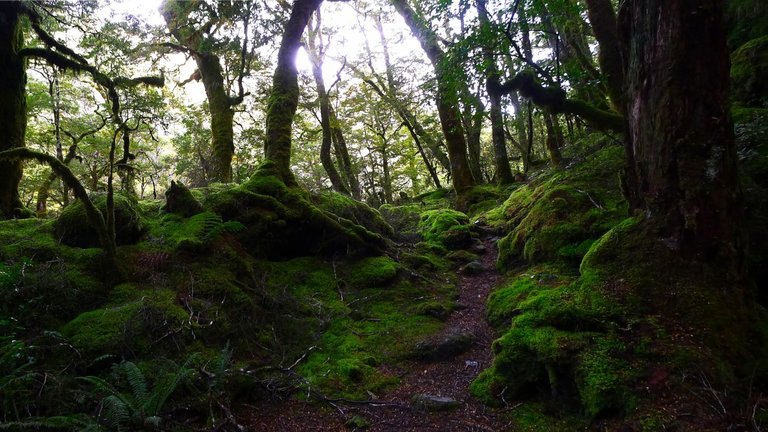 When it comes to dog hikes, the world is our oyster! What is the most memorable hike you've shared with your dog?